It's the end of my latest term, and once again time for me to start up in Independent Studies.
I've been waiting all term to check out a certain book from my university library, knowing I wouldn't have time to read it until after exams. One of the best parts of transferring to a new school is perusing their collection of tea-related books. My last school introduced me to The Book of Tea, and Tea in Japan: Essays on the History of Chanoyu (see Bookshelf for more information).
Here, I've found The Tea Road: China and Russia Meet Across the Steppe, by Martha Avery, detailing the lesser-known, Northern cousin of the Silk Road and Tea Horse Roads. Best bet is to look up "Siberian Route" on Wikipedia for more information.
The book details the history of its inception and follows its formation, roughly, from China to Russia.
I've been taking notes.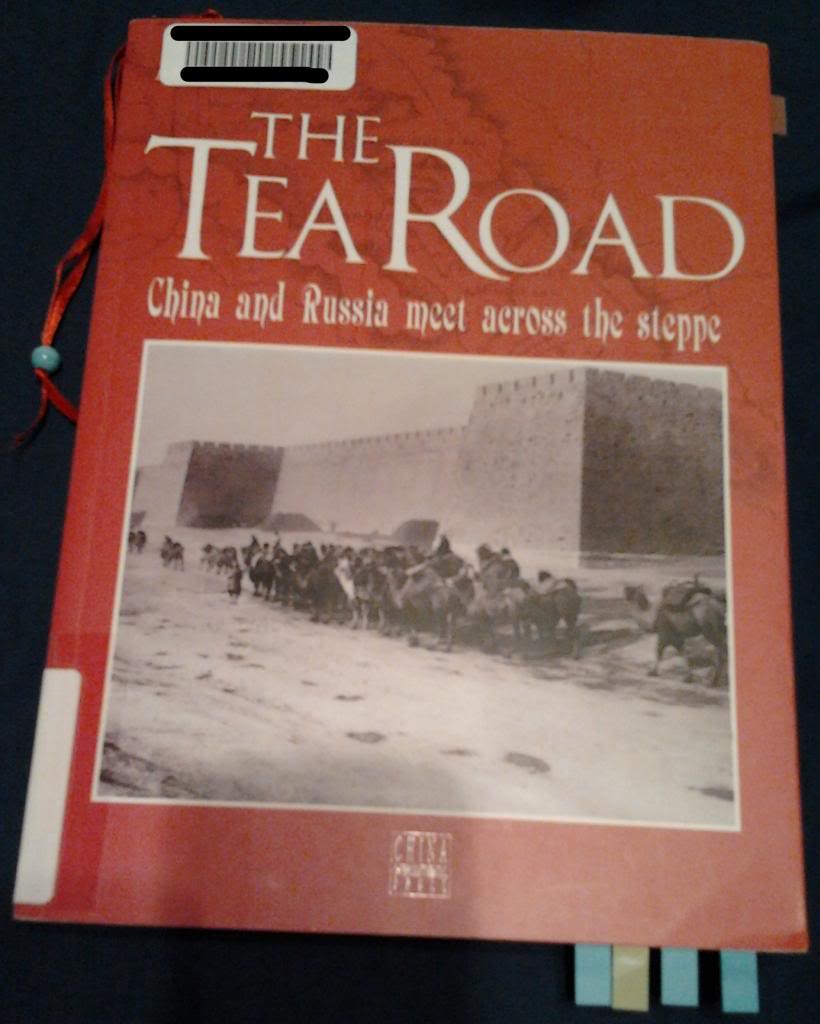 Which is a bit dorky, I know; it started with a tab for the Endnotes section, for easy reference, and then I found myself tabbing every page with an interesting fact I wanted to either write down in my Teabook, or look up more information on.
It's a bit tricky, I've found, to find a lot of actual BOOKS (in English for that matter) on Russian tea. I've been eyeing this one (since I found it in the library) because China is most definitely my favourite tea-growing country, while Russia remains my favourite country of tea culture; unfortunately, I'm on a time-limit for reading this. I'm not taking any classes this summer, and thus my Library Pass expires two weeks into the new semester.
I don't have a lot to say about the content yet, although it's an interesting read, however I already have a few negative things to say about the writing itself.
Avery makes it a point of explaining that the formation of the Tea Road requires a non-linear explanation, and she stays true to this by jumping around a lot. Some times she makes note of the years she's jumping to and from, but the majority of the time she doesn't, and this makes it a bit tricky to follow, and retain the information. She also ends up repeating herself quite a bit, almost word for word when she jumps back to certain years in later chapters and then reiterates all the facts previously stated. And doesn't often add anything new to them.
Her repetition is most blaring in the use of her endnotes. Often times, what's stated in the endnotes goes on to be stated in the text, often word for word, making the note redundant. Usually directly AFTER the number in the text, or in the proceeding paragraph. This comes up enough times that it actually becomes a bit distracting.
I'm of the opinion that perhaps it wasn't proofread nearly as thoroughly as it should have been, or at least the proofreaders neglected to read the endnotes–or at least read the endnotes alongside the actual text.
However, with all that said, although I find it somewhat difficult to follow (linearly), it's still got a lot of interesting facts (my collection of tabbed pages has doubled since the photo), and certainly it's a well-sited work. It begins set in China, and more or less works east to west (Avery chose, roughly, to follow the linear movement of the road rather than linear progression of time). I find it's inspired me to look into works detailing tea as a currency; I almost want to write an article on this subject alone, and it certainly lists a lot of works to look into for more information on it (as well as including a lot of interesting pieces itself).
I'm still several chapters away from Russia yet, but I plan to write a second post once I finish the book. I probably won't go into too much detail on the information included (there is a lot), but a brief summary, at least, and most likely my stamp of approval.
As always, this is turning into a bit of an unending ramble, so I guess I'll just close with a Stuff I Bought Update: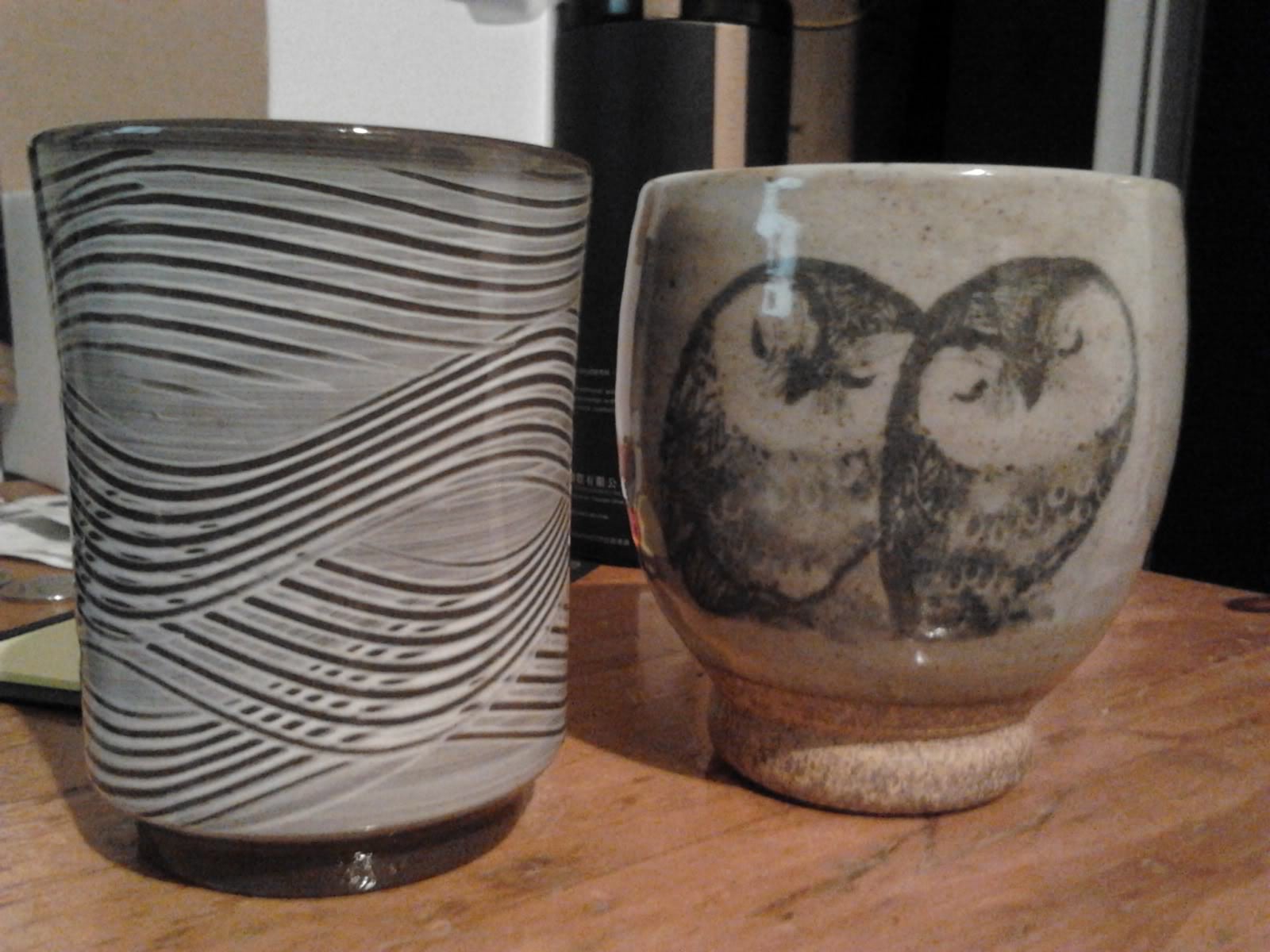 During the week leading up to my last final, I spent a lot of time at the public library near SOKO's, studying. Occasionally I'd stop in for tea, and I spent much of that past week eyeing up an owl cup. I've already an owl mug, but I quite liked it, so I promised it to myself after my finals.
When I stopped in to pick it up, they had some others on sale, and I picked up the wavy one for 40% as well. They're both from Kotobuki, a San Francisco-based company that imports wares made in Japan. They have a website, and the owl cup is also available on STASH's website. They're very nice, and I've enjoyed using them. Unfortunately, it looks as though I'm starting up an Owl Ware Collection (especially since SOKO's since gotten in a matching rice bowl, as well as an owl teapot and cup set).
I've spent some time also eyeing up a TARDIS teapot. This is a bad habit. I'm running out of room.