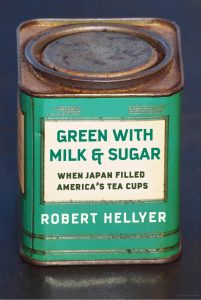 I'll usually swing back around to this blog with a pretty dire opinion of my activity, but if I can manage four posts a year (in both 2021 and 2020!), then I'm pretty happy with myself. (Even if I did read months back)
Of the 2021 releases I talked about previously, this' the only one I've gotten around to reading so far. This was the book I was most interested in (so the only one I put on pre-order–it was my birthday present to myself, but with turbulent pandemic delays, it didn't actually get to me until the end of November), and I don't think there's really any other books out there that cover this specific topic to this extent and dedication.
Green with Milk & Sugar is about the growth and decline of Japanese tea in America, interweaving the cultural climates of America, Britain, China and Japan from the 1800s all the way up to the 1940s. It follows how these relationships and ideals shaped America's tea tastes over the years, made them distinct from Britain's, and how those tastes eventually declined during the twilight years of WWII.