I look forward to new releases, even if the sad reality is I only manage to read a couple of Tea Books a year–and usually half a decade after they've been published. But that doesn't mean I can't share what I'm looking forward to getting my hands on.
These are just a couple of the books that are slated to be published in 2021. There's a lot of cooking, photo, and 'mini guide' books to slog through to find the gems, but after a lot of digging, I've started my 'pre-order list' for 2021. We'll see what else crops up as the year progresses.
---
Green with Milk & Sugar: When Japan Filled America's Tea Cups
Release: October 12, 2021
$42.00
Hellyer is a Professor of History at Wake Forest University, focusing on East Asian Studies. This will be his third book–all three focusing on Japan.
That's enough of a CV to have me reaching for this volume. The vintage aesthetic of the cover also caught me.
Hellyer's work focuses on the relationship between America and Japan's tea-drinking economies; America's penchant for Japanese greens, and how that in turned affected Japan's own culture. I've read a little bit about how Japanese green teas filled the void left by Chinese green teas in America, but this will be the first book I'll read that focuses no that. It's probably the only book I've seen to focus on Japan and America's tea-link. The only other work that comes to mind is Okakura Kakuzō's The Book of Tea, although that's more of a cultural examination through the lens of tea.
---
Putting the Tea in Britain: The Scots who Made our National Drink
Release: June 3, 2021
$28.99
Wilson only looks to have one other book under his belt, about World War One. But his bio describes him as a distinguished documentary maker, with special focus on Scottish history. So the subject matter checks out.
There were a lot of Scotsmen involved in the development of Britain's tea industries in various colonies, so I expect this to be a good read. Detailing Robert Fortune (of course), Robert and Charles Bruce, Thomas Lipton, James Taylor, John Dodd… Among so many others. Maybe fingers crossed John Murchie gets a mention? I severely doubt it.
---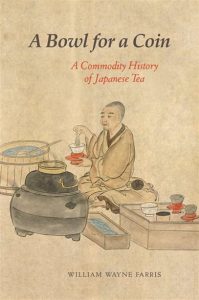 A Bowl for a Coin: A commodity History of Japanese Teas
Release: April 30, 2021
$37.95
A Bowl for a Coin was released in hardcover back in 2019 for nearly $90, but a softcover edition is coming out later this year, for less than half that.
Farris is a professor of Japanese history and culture at the University of Hawaii. He has at least six previous books published on ancient Japan.
A Bowl for a Coin claims to be the first of its kind, a book that details the history of all Japan-grown teas since camellia sinensis' introduction to the island. It's a lofty goal, and lots of previous books have covered tea's evolution through Japan in varying amounts, but a book like this specializing on that topic alone is enough for me to snap it up.
It'll be interesting to read. Some of Farris' other works do detail land use and agriculture alongside Japanese history, so he definitely has a lot of insight to share.
---
Price-wise, these are all surprisingly affordable, compared to some of the $100+ books the past few years (cough republished Romance of Tea cough). So I don't feel too guilty adding these to my library. It's the waiting that'll be the hard part…