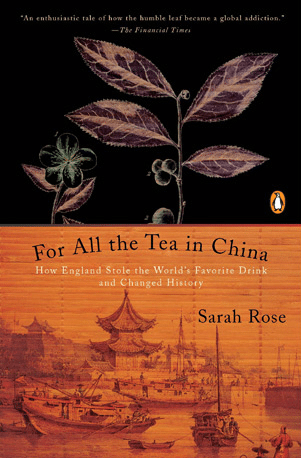 For All the Tea in China is a very sprightly, up-beat work of non-fiction detailing Robert Fortune's botanical espionage, and the racism of the times. It is, at this point, a Reading Requirement for all new Tea Drinking, Book Loving Recruits (or so I suppose, from Steepster's general consensus). As some people might remember, I picked this book up… oh… two years ago, just a little while after I had returned from working Up North. I was picking up history books left and right at the time, but I force myself to read all my books in order, so as to make sure no book is left collecting dust for long (except for a small clause which allows me to put any owned book on hold in order to read any book from the library–this is due to the two-week limit imposed on most books, which forces me to finish them in a timely manner).
Robert Fortune is both an extremely popular fellow and an extremely unpopular one. He represented, for his time, the epitome of British racism, egotism, and capitalism. Britain extorted China, disregarding its legal stance on opium, forced it to continue trading its tea for the drug, and then, when they feared that the drug may not keep hold in China for too much longer, broke into the closed-gate country and stole its secrets and its tea seeds so they could set up shop in India.
Oh yeah, but we got some really good tea out of it.
I find the arbitrary idea of "British Tea Experts" in the 1800s, self-proposed British Heads of Chinese Teas, getting in that first shipment of Himalayan-grown tea stolen from China, sipping it, and going, "yes, this is what tea is supposed to taste like, I know". Which I mean in no way as a strike against Indian-grown tea (which I enjoy, but I will say I do tend to prefer China-grown teas). I am sure there are many modern-day parallels I could draw to the inanity, but all I can say is it brings a sardonic smirk to my lips reading about how the British had "experts" on how proper Chinese tea should taste.
On a tangential note, however, I would like to know what some of China's more traditional tea masters think of Indian tea (in terms of taste, rather than the politics and as the product of historical extortion).
My grandmother caught me reading the book when we went for a visit, and she seemed interested–up until I explained it was about a "batonical spy stealing tea secrets", then she thought it was a historical fiction and not worth her time. I'll have to bring it up again at some point, because I think she'd like it.
The majority of the pages I ended up tabbing were those referencing either Robert Fortune's works, or other works on the subject of his adventures. I'll probably list these later (alongside links I've found online for them–they are, as mentioned earlier, all public domain); as I doubt I'd be wrong in assuming a large portion of the teatra.de community has already read this book (as mentioned before: it seems a Right of Passage in the tea community, or so I've been lead to believe), I'm sure a hackneyed list of facts I collected from the book would be under-appreciated.
However, of interest is a list of "enigmatic names" for tea on page twenty-eight, of which only one is recognizable today: Dragon's Well. The rest I spent some time looking online for elaborations upon, but perhaps they're lost to the times. The others are Lark's Tongue, Jade Girl Peak, Looking Glass Rock, Water Tortoise Stones, and Rock of Three Monks.
Most of these, if googled, return only results quoting For All the Tea in China. Lark's Tongue returns a few results that describe it as a style of green tea production–more specifically a choice of plucking. An early spring bud plucked only from certain varieties of C.S. var S (The Tea Enthusiast's Handbook); or, budsets often plucked for use in panfired tea that retains the afore-mentioned name (The Story of Tea). Sparrow's tongue is another term for it, which one may recognize is a yellow tea.
The others, not-too-surprisingly, are places in China (many, popular tourists destinations).
One of my favourite passages though, starts on page 133 and continues until the end of the chapters on 135, and details the correspondence between Jameson and Falconer, ending with Falconer's sick burn. History makes me snicker.
I'd also like to read more about the caichanu, the dainty tea-picking women of China, as well as the tea clippers, the fastest sailing ships in the world (I may have already found some works on the clippers in my university library, but I haven't checked anything out yet).
I think the best I can do in suggesting related works to read, is to go to the (assuming your library follows the Library of Congress Classification system) HD 9198 section of your library.  HD is Industries, Land Use and Labour; 9000- ~9500 is Agriculture, 9198 is specifically tea. My own university's library has a pretty good collection stored here, and For All The Tea in China is among them (although I bought mine). Most detail and model the history of the tea trade market, and I'll admit I've had trouble deciding which to check out first.
I've started with the United Nation's 1996 publication: Tea Marketing Systems in Bangladesh, China, India, Indonesia and Sri Lanka. I haven't had much time to read past the first chapter however, as I'm in the midst of finals.