The best thing about this entire self-quarantine is that all checkout times from the library have been greatly extended and I rarely leave my apartment anyways, so I'm hoarding these books.
So the Festival skipped a year and moved from winter to spring, bringing it more inline with over tea festivals. And, I assume, making it a bit more accessible to companies and attendees. The venue switched too, and as much as I liked the Dr. Sun Yat-Sen Gardens, the Nikkei Cultural Centre still offered a picturesque view, a small garden and some solid dining options for when you need something over than tea in your system.
Now, I did something a little crazy this year and signed up to present. I was offered a tasting slot as well, but ended up declining… My anxiety-stricken mind can only handle one major event at a time.
That said. I did get an hour to myself manning a tasting station, towards the end of the first day. I offered an unsmoked lapsang and didn't quite have enough time to offer a Hunan black (made with a Wuyi hybrid cultivar); a shame. I'd been excited to ramble about it.
The event happened shortly before everything got shut down (including any gatherings over 50) due to COVID19, but even then, people were courteous and taking precautions to prevent contamination and spread. Using trays, or only offering paper cups. Elbow bumps were the norm.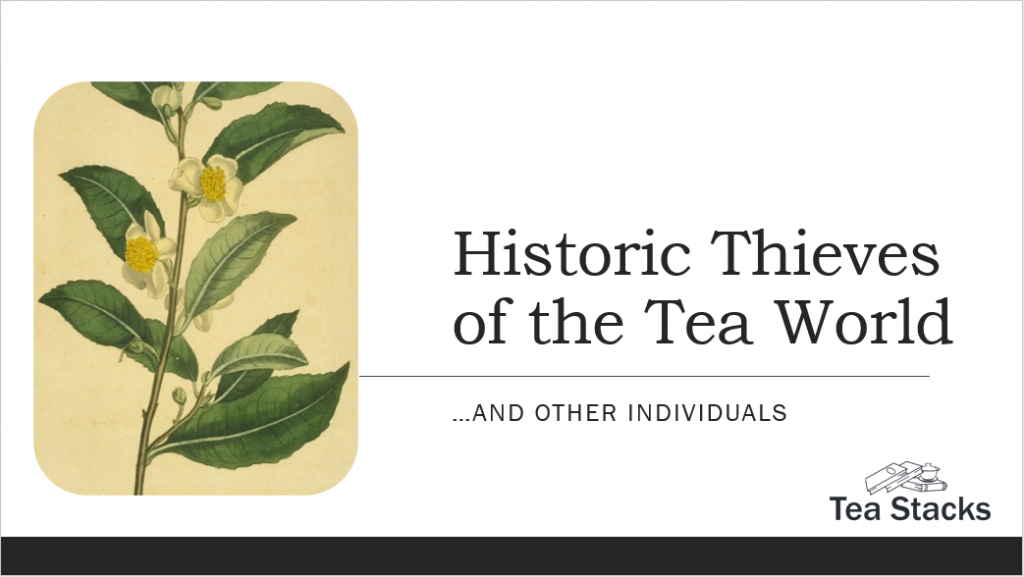 My presentation took place at noon on Sunday, and honestly could have gone better. I was a nervous wreck, but wanted to throw myself out of my comfort zone. Tea friends had mentioned a few times that I should do a talk, so I just decided to go for it. I was very disorganized and green. I would have thought years of academic presentations would have prepared me… I was wrong. But I know how I can improve it already, and despite how poorly I thought it went, people laughed along to my jokes, and when I returned to the venue after I heard positive things. Apparently people were amused that I called Philipp von Siebold a "bastard". Which is incorrect–in fact I called him "kind of an arrogant asshole".
So apparently it went better than I thought.
The talk was mostly just a variation on my Tea Thieves Through History post, expanding on the initial three and adding a few more to the lineup, mainly Philipp von Siebold (with a brief cameo from Mikha Eristavi).
It was fun to put together, and sent me down another rabbit hole of research. I came up with a lot of new sources on Mirza, which I'm grateful for.
I didn't take any pictures during it, and I don't think any were taken of me. So people will just have to take my word. A shame I didn't, it was a full house. Everyone made the choice to show up fashionably late by five minutes, which did nothing for my anxiety.
But all in all, a fun time. I'd like to improve this talk for next year, and maybe do something a little more basic as well (maybe the three eras of tea?).