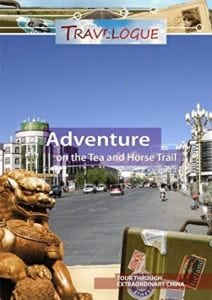 This is a dvd set I picked up alongside The Great Teas of China. It's a serial from the Travelogue show, following the energetic host (whose name I don't ever remember being mentioned, and isn't anywhere on the case or online) and his team as they travel along the original road of the Cha Ma Dao, from Yunnan to Tibet.
The serial is broken up into three parts, each just under thirty minutes long. In the set I got, they were each on their own dvd, which seemed a bit excessive for what amounts to a total ninety minutes. Within this, each "part" was split into two to three days.

Part one opens in Lijiang, with day one's 170km travel to Shangri-la. Each day opens with a title-card showing where they are, and where they're headed to, as well as a map of the full route.
The documentary focuses more on the adventure itself and the different cultures experienced than the history or tea. Not a downside, as it's probably geared that way on purpose, but I would have liked more on the history of each city encountered, and how they played into the Cha Ma Dao; maybe some general history of the road as well (I guess you're expected to know that going in). There is the occasional mention of each area's historical significance, but not much past that.
I think my main caveat is that the title cards and captions weren't used enough; often words and places are mentioned, and you're given no written transliteration, making it difficult if you want to look up more information. The dvd also offers no subtitles. I don't know if subtitles were offered in the original broadcast and if it was just an oversight, but I couldn't find any option. I also don't have the best hearing, so it meant pausing and replaying a few segments.
Day two is Shangri-la to Meili Mountain, 170km, through Deqin county, and featuring the Napattai Nature Reserve and Pagoda Forest. Deqin county was heavily influenced by French settlers, which I found interesting; I've read about France's influence on Vietnam, but not Tibet/northern Yunnan. They produce their own wine.
Part two covers days three, four and five. Day three continues from Meili Mountain, traveling to Mangkang, 200km. Probably my favourite day, visually, as it featured a lot of geology, with visits to the salt wells, and long shots of the Lancang River, with their perilous journey through serious mass-movement hazard areas. They visited a Christian tibetan church (the result of French missionaries), and briefly mentioned the history of the salt wells and their connection to the road. I'll restate that I really wish they used more title-cards or captions for names.
Day four was Mangkang to Basu, 360km. There is a bit of history of the Yellow sect of Buddhism while visiting the Weise Monastery. Also the '99 Twists and Turns', rapidly descending switchbacks from great altitudes. I've worked on a few exploration sites (plus fieldschool); sharp switchbacks can be terrifying, especially in oversized vehicles.
Day five was Basu to Bomi, 200km, and featured a bit more geology with the Palongzhangbu Gorge (one of the deepest canyons on earth!).
Part three, the last dvd, covered days six, seven and eight. Day six was Bomi to Linzhi, 200km, with visits to Death Valley, and Tongmai Bridge, the 'Bridge of Death'; an important part of the Tea and Horse Road, it was rebuilt in December of 2000 to replace the previously destroyed bridge.
Day seven: Linzhi to Lhasa, 510km. Visits to Xiuba Castle, built in the Tang dynasty, and is one of the best preserved of the region. Tibetan castles apparently came in three main types: stone, mud or wood; Xiuba is a combination of stone and wood construction.
Day eight, the documentary ends in Lhasa; it was a nice closure, with emphasis on Lhasa's history as a trading port and cultural hub, especially Barkhor Street, which surrounds the Jokhang Temple. There were lots of foreigners juxtaposed with the very religious tone of the city.
The narration ends with a shot of Potala Palace.
Breaking it into three half-hour parts made it a bit easier for my easily-distracted-mind to watch over a few days (I can barely sit through an entire feature-length movie on my own). If you're looking more for the history of the Tea and Horse Road (note: I don't know why it's called a 'Trail' here, since they call it a road in the show, it's clearly a highway at some points, and they're driving a caravan of large cars all throughout the documentary, even during the most perilous, narrow, cliff-locked areas; in fact, twice they get stuck on a one-way portion of the road while someone's trying to go the opposite way. I'm guessing a direct translation), you can probably skip this. There isn't much mention of the history of the road and its creation, and really the only mentions of tea are during part one, while drinking Tibetan butter tea, and at the end, in Lhasa, while buying tea that was transported (supposedly) along the road from Yunnan.
But if you want to see a bit of the culture and the people who still live and rely off the road today, I'd pick it up. The host is engaging, it's fun, there's dancing, there's a bit of amateur shaky-cam, and I'm pretty sure the entire three part serial can be found online somewhere for free.