Thought I'd update with a few of my purchases. Seeing as I spent a total of one hundred dollars ($CAN) on tea and tea accessories (okay, they were all reasonable prices minus the forty dollars I spent on a freshly-picked 2012 first flush Darjeeling, but getting to that).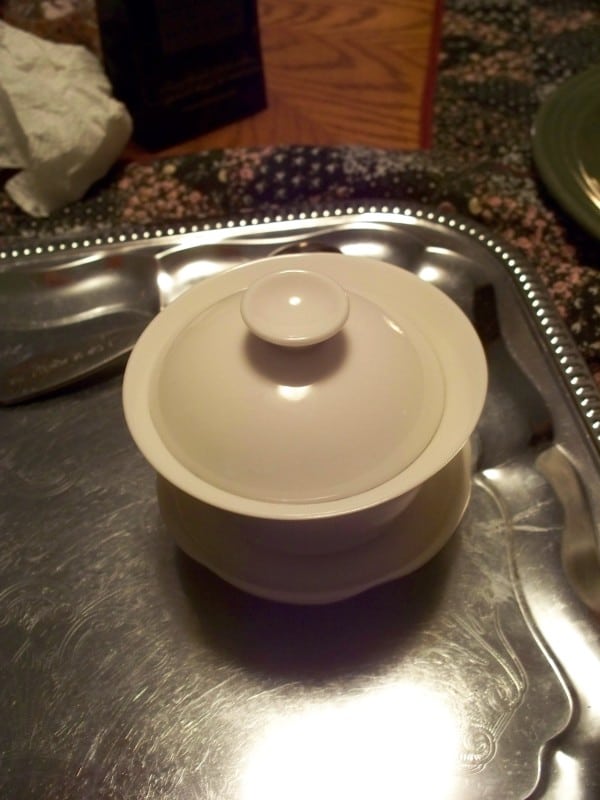 Starting with the lovely, simple white gaiwan I got from Urban Tea Merchant. A bit of history: I've been eyeing up this specific gaiwan for well over a year. I've been looking for a while for one, but wanted to get it from somewhere else (support one of my favourite tea companies, but most don't sell gaiwans); the only other place in my area that sells them deals mostly in high-end and antique gaiwans (running for well over two-hundred dollars). I had had plans to buy one online with my next tea-order, but I must have been (scratch that, I distinctly remember) being very tired by the time I got to Urban Tea Merchant (last stop of the day), because I literally went "fuck it, give me one of everything".
I make bad decisions when I'm sleep deprived. But I don't regret this one–it was twenty dollars (pretty good, pretty good) and is beautifully crafted, I think. You can't see it too well here, but the saucer is deep-set, so the cup sits low and safely inside, and it's got a rather pretty flower shape to it, which is only vaguely visible here. Also, the edges of the lid are unglazed (or I think the glaze was sanded off the edges after), which allows it to grip the inside of the cup slightly when you hold it to pour. For my tiny hands, I found it surprisingly easy to handle (not a single spill, used one-handed). It holds about 100mL.
I remember staring slack-jawed at it as my tea orders were being filled (as I have often done before, debating if I should buy it this time around–or at least ask if it came with a box, since they weren't presented with any and I didn't want to try to get the thing all the way home from Vancouver without one), and finally asking–rather, stuttering, as I tend to do–if the "Gawain" had a box, then immediately smacking myself for mixing up my Arthurian figures with tea equipment. I no talk good sometimes.
It ended up, they had some extra boxes from way back when they carried Mariage Fréres tea (in order, they have carried, Mariage Fréres, then THEODOR, before dropping them last year to carry TWG), which fits it almost perfectly. Luckily.
Backing up, I originally went in to Urban Tea Merchant to buy Sakura! Sakura!, which is TWG's sencha-sakura blossom blend (which many tea companies bring in during the Hanami Festival season; especially fitting in Vancouver, which celebrates the festival, and is practically overrun with cherry blossoms; there's actually a large number of them outside the secondary entrance to UTM, which is very fitting–you can sit under them on the stone patio as you sip tea).
Somehow I left with fifty grams of that (nine dollars), and fifty grams (forty dollars) of the newly-arrived Phuguri first flush Darjeeling.
Which I only regret because I am not too huge on Darjeelings, and stupidly didn't ask how much it was from the start (tired) (they descended like vultures) (I still love their friendly customer service, and the fact that I'm recognized pretty much every time I walk in there–which is also probably an intentional sales ploy, target the regulars, make them feel loved) (it works). Still, it's a nice tea (in moderation), and I love how wonderfully fresh it is. It smells it, it looks it. It's a very potent, sweet hay smell when dry (you can smell it as soon as you open it
The finale, before all of this, I spent thirty dollars on half a pound of Assam Pure (originally Assam Tippy Golden) from Murchie's. It's my mother's day present (along with a lot of baking that I plan to do). I introduced her to it years back, and it quickly became her favourite tea. I've got a huge ceramic tin with a spoon attached to hold it.
Okay, so that works out to ninety dollars total, before taxes. Close.